Teaching-Game Calendar
Times are given by UTC. Please check the time in your region.
The numbers given in the calendar indicate the number of seats remaining for teaching games with a number of players. "P" indicates a time slot in which you can play an individual (one-on-one) teaching game.
Reserve teaching games here

Motoki Noguchi (Pandanet ID: MotokiN)
Motoki's schedule is here.

Cornel Burzo (Pandanet ID: Cornel)
Cornel's schedule is here.
Their profiles are at the bottom of this page
Services available
① Simultaneous teaching games (fee: €20 per game)
A maximum of three players play teaching games at the same time. Because there are multiple games, there are no reviews after the game.
② Individual teaching games (fee: €30 per game)
You can play a one-on-one teaching game. After the game, there is a review, and you can ask the teacher questions.
③ Your ID will be displayed on the calendar after we confirm the payment.
To : lesson-go@pandanet.co.jp
PayPal 
How to reserve a teaching game.


Select an instructor and date/time.
Make a payment via PayPal no later than three days before a lesson.
The payment should be made to lesson-go@pandanet.co.jp
Leave your ID and lesson date/time on a memo.




Log-on to GoPanda2 10 minutes before the lesson.
Wait in the Teaching Room.
Your instructor will request a game at the appointed time.
NOTE:
You cannot have a lesson without your ID written on the memo when you transmit the money by PayPal.
 Please specify your ID (including big/small letters).
Please note on the memo whether you wish to play a simultaneous or one-on-one game.
If the payment is excessive or insufficient, the lesson will not be held, and the payment will be returned.
If you cannot have a lesson due to a problem with your instructor's connection, we will return the fee via PayPal.
No refund will be made if you caused a problem and couldn't conduct the lesson.
Your information on the Paypal memo will be deleted after the lesson.
Our Policy for cancellations and refunds is as follows:
Return and Cancellation Policy
We do not cancel registrations once entered. However, in exceptional circumstances wherein the fault may lie with the payment gateway or on our side, we will cancel your participation on request and refund the money to you within a reasonable period.
Please check here how to play a teaching game.
Profiles of teachers

Motoki Noguchi
6-dan
Pandanet ID: MotokiN
*To display his rank as "1p" is to make him available for handicap setting on our system.
Motoki Noguchi 6-dan Grenoble go club, France
French open champion in 2008, 2010, 2012, 2015
French club champion in 2008 (Tours), 2011-2013 (Strasbourg), 2015-2017 (Grenoble)
Author of go books in French : "le langage des pierres" (Praxeo, 2005), "Tsumego, l'art du combat au jeu de go" (Praxeo, 2009), co-author of "Yose, fins de partie au jeu de go" (with Dai Junfu, Praxeo, 2014)
Translator of "Itinéraire d'un maître de go, Chefs d'œuvre de Cho Chikun"(Editions Balat, 6 volumes, 2016-2017)

Advice for improvement:
Work hard on what you like in go (tsumego, professional games, playing games…)!

Cornel Burzo
7-dan
Pandanet ID: Cornel
My name is Gheorghe Cornel Burzo and I was born on may 3rd 1980 in Bistrita, a small town located in the north of Romania.
I came across the game of Go for the first time at age of 10 when my grandfather bought a Go game set for me and my two brothers as a Christmas present but we couldn't really understand the rules from the flyer inside the box so I found the game boring and quit after trying a few 9x9 games..
Few years later I moved with my family in a bigger city Baia Mare also in the north of Romania and in 1993-1994 I started to join a local Go club which was ran by a physics teacher Florin Berciu 2 kyu and once I got to learn the rules properly I found the game fascinating and addictive and since then I took part in over 300 go tournaments worldwide.

You can check my player stats here:
http://www.europeangodatabase.eu/EGD/Player_Card.php?& key=10325249
Among the numerous tourneys played in Europe, USA and Asia I can mention a few notable results such as winning the National Championship in Romania for 6 times, placed 3rd and 4th in the European Championship in 2003, 2010 respectively and 5th place in the World Championship in 2008 , 6th place in WAGC Thailand 2015 and 7th place in WAGC China 2017.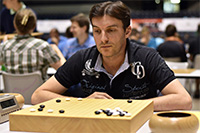 I've been very active as an online player and teacher since 2000 on servers like IGS-Pandanet, KGS, OGS, Tygembaduk, Wbaduk and Fox Go server.
You can check game reviews of students and/or pro games on my youtube channel at the link below:
https://www.youtube.com/cornelburzo
My hobbies are ski and tennis !
Installation of specialized software (free)
To play games, you need to install specialized software (free).
Persons who have not yet installed it can do so below.

Playing and game-viewing software " GoPanda2 "
Windows version/Mac version/linux version

Game conditions
The player being taught has 50 minutes, with no byo-yomi.